We know what you're thinking: trying to find the best Austin wedding music for your reception is like looking for a needle in a haystack. There are simply too many Austin wedding bands to choose from, you say. To that, we say: No need to work up a sweat looking for something you're under the impression is eluding you. We're right here and they call us In10City Band. There's no need to pull on your heavy duty gloves, as you prepare to dive into sorting through bales of figurative hay to find what you want. 
Instead, use those silky, wedding prepped hands of yours to dial our number, type out a quick email, or to send a message by pigeon carrier. We're happy to receive any message you relay. Our goal, of course? To give you the easiest experience you could have imagined with your party's music and lighting. Well, not just the easiest. The best, too. Not sure anything should be this simple and straightforward, so you want us to convince you with lots of colorful details? We're on it
THE SURPRISE-FREE PREVIEW
Know What We're All About Ahead Of Time
You've read about us. You may have even heard about us from friends. You can sort through the particulars that make us seem even more real to you with reviews or videos. But until you hear the music performed by our musicians, the vocals soaring through the air and tickling your eardrums, and until you have that chance to vibe with our personalities face-to-face, you don't know what to anticipate. Cut out the possibility of any surprises and find out right away. 
You are hereby invited to RSVP for a Showcase Event?  Just let us know when. You'll get the full experience all packaged up into a shorter, digestible preview version, so the only surprise during your wedding reception is that it's even better than you guessed possible.
Austin Wedding Music That's A Super Duper Fit
We don't always say things like "super duper" but when we do, it's because we've just got to. What you're looking for in a band like In10City Band for your wedding reception is a group of musicians that have your back, from calling on schedule to showing up on time to having every last essential facet of your day factored in and planned in an airtight manner.
Oh, right, and then there's the music: We do it all. Signature mashups of contemporary, country, Motown, funk, disco, jazz, Latin. If we haven't already added it to our list, we can learn it. We're very adept at learning you as a couple, too, so you know you can look forward to hearing everything you love, bouncing to the beats that make you feel all the feels, and enjoying those heart-melting moments, too, with the songs you both fell in love to.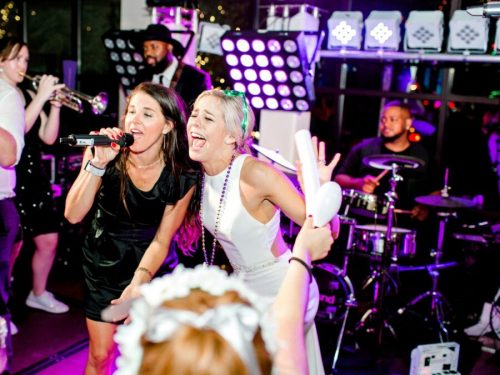 Wedded Bliss Starts With The Reception
the best austin wedding music starts with the best Band
You've said yes, you've said that you do promise to have and to hold for life, and now you're strutting into the reception on top of the world. Shouldn't all of that bliss you've been hearing about start from the get go? Take those steps into this first (and most significant) party as a couple, while you check possible stress at the door. 
Celebrate this mighty union of yours with absolute free-wheeling happiness. We'll bring the best Austin wedding music around (tailored to your exact goals), the partying (we really know how to get a crowd moving), the lighting (hey, it's all about the right glow and the right dance floor effects), and the unique blend of energy that means your wedding photos will be full of smiling faces. Ready? It's time for one seriously blissful beginning.