Intensity Bands For Weddings
Intensity Bands For Weddings
Live Wedding Bands For Epic Receptions
Great wedding bands that can "rock the house" are easy to find. However, in extremely short supply are party bands that combine talent with etiquette, respect for tradition, and a gracious attitude that puts the client first. That's what makes Intensity different.
Wedding Bands That Set The Bar Higher
You need and deserve a wedding band that listens to and understands you. You want your band to know what you need before you do. They need to go the extra mile. We vow to be all that and more. Okay, so maybe that sounds more like what you need from your fiancé. Are we coming on too strong?
No one, with the exception of your loved ones, cares more about your special day than we do. We strive to be the easiest to work with, most fun to dance with bands in the world, and we succeed every day.
But don't take our word for it! Check out what people are saying on Google, Wedding Wire, and The Knot.
Your Picture Perfect Evening
You've been looking forward to this celebration all your life. You can't have just any band – trust the experts who have made dreams come true for hundreds of couples.
Your wedding, especially your party, is our passion. We know what to do to make sure that everyone stays on the dancefloor having a blast. But more importantly, we know how to execute your unique vision and celebrate you.
Maybe you're a trusting person, and you're already set to sign on the dotted line. Or maybe you aren't convinced yet – this is an important decision, and you aren't in any hurry to jump into a commitment with a band. Either way, we recommend that you check out a Live Showcase.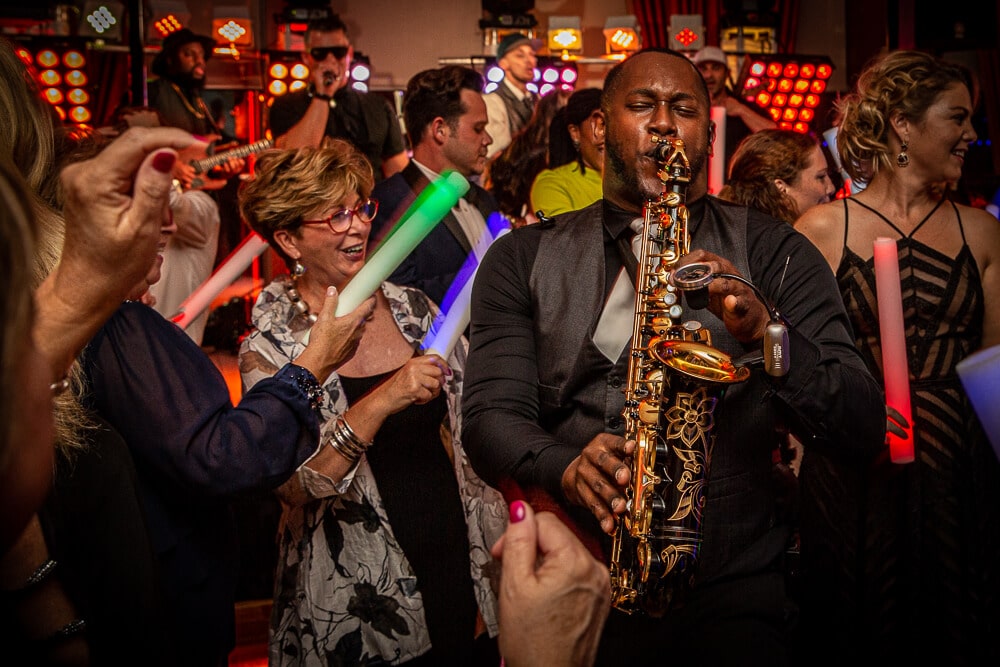 Intensity Wedding Band Showcases
See your band in action before your big event
This is going to be the biggest night of your life – you should be able to know that everything is going to be perfect. And there are plenty of bands for weddings that you could book, so how do you know we're the right one for you? Easy: come and check out a Live Showcase. An Intensity Showcase Event is a private, fun, all-out display of the entertainment you can look forward to for your party. In our private performance space, we put on an abbreviated concert for you and other guests, which provides:
An exciting, representative, fully-produced show that allows you to see and hear our bands
A chance to meet and speak with performers, and even request them for your event
The opportunity to speak face-to-face with our sales team, production staff, and management
RSVP using the form below to schedule a private showcase with us. We can't wait to meet you!
find out which bands are the right fit for your wedding
You're here for one reason – you need music. The best music for your wedding, the kind that's going to transform your reception from a fun get-together into an all-out dance party is live music from an Intensity Band.
So let's get this party (planning) started. It all starts with a quick phone call. Tell us when and where, and we'll take care of the rest.
If you don't have time to jump on the phone right now, click the button to give us a little more info. We're happy to send you lots more information about our amazing bands.
Or click the button to request pricing, availability and additional information
See what we've been up to